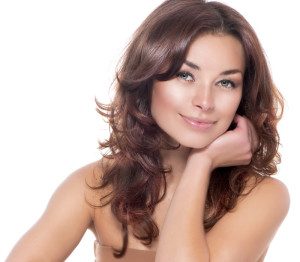 Epsom salt is a cheap, but very versatile and effective beauty aid, used regularly by many women, including well known models and actresses, to maintain  the health and  beauty of their skin and hair. Numerous women have agreed that Epsom salt is a great exfoliator, quite comparable to expensive exfoliating creams and scrubs:
 

It removes the dead skin, but does not leave the skin dry

 It helps to sooth the skin

 It makes the skin shiny, smooth and silky

Antimicrobial properties  of sulfur  and ability to absorb excess oil make it  an excellent cleanser for skin pores clogged with dirt and oil.
 How to exfoliate with Epsom salt

The most simple way to exfoliate dead cell with Epsom salt is to

rub handfuls of Epsom salt directly on the body while wet

. Start with your feet and move upwards. Rinse afterwards.
Mix a handful of Epsom salt with a table spoon o

f olive oil and rub it over the wet skin. Concentrate the scrub on rough areas such as elbows or hands that are itchy and dry.

Mix 2 cups of Epsom salt with 1/4 cup of petroleum jelly and a few drops of favorite essential oil. Then use the mixture to gently exfoliate the skin and the rough patches.
Face exfoliate and cleansing with Epsom salt

Epsom salt facial scrub: gently rub a handful of Epsom salt directly on wet skin. Epsom salt absorbs excess oils and removes the dead cells. Use caution not to get Epsom salt near your eyes.
Exfoliating Epsom salt face cleanser: for deep poor cleansing and exfoliating the skin at the same time, mix a half-teaspoon of Epsom salt with your regular cleansing cream. Gently massage into skin and rinse with cold water. If your skin is too dry,  you can mix Epsom salt with baby oil instead of water. 
Homemade Epsom skin mask for oily skin:  to treat an oily skin, a homemade mask can be used. Mix Epsom salt, an egg and small amount of nonfat dry milk and of lemon juice. Apply to the skin and leave it on until it dries. Rinse well with warm water. Finish by rinsing with cold water to close the pores.

More tips

for homemade Epsom salt face masks for other skin types!
 Epsom salt and acne treatment